Announcing Episode 4 of the IJMS Research Pathways - YouTube series
2023-07-16
Dear (future) physician-scientist,
Episode four "Stories from a PhD candidate" of the IJMS Research Pathways is now available on YouTube!  
Dr. Paul Morgan, a researcher of molecule inhibitors and radiation oncology at Icahn School of Medicine at Mount Sinai, NYC. Dr. Morgan shares with the IJMS audience his trajectory and advice for the new generations of physician-scientists.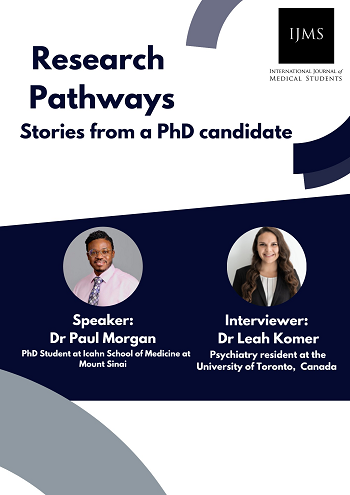 The IJMS Research Pathways is an online series about the career and experiences of physician-scientists who have gone through the process many of us face or have faced, not knowing where to begin, how to publish, or where to find a mentor. Now they share their experiences from med school to a successful research career.
We hope you learn and enjoy the company of our speakers. Make sure to share, like, and subscribe.
Don't forget to visit our website to read about the Journal, check out our latest issue, and follow us on Facebook, Instagram, Twitter, Youtube, and Linkedin.