Info-session: IJMS World Conference of Medical Student Research (WCMSR)
2022-08-24
Are you considering to participate in the 1st IJMS #WCMSR ?
This Saturday, August 27, 8 AM EST, we will have an info session about the IJMS World Conference of Medical Student Research (WCMSR). Details about how to participate, submit, and be part of this fantastic medical education experience will be provided by the Organizing Committee. This will be a Youtube live session open to all public and with a Q&A space.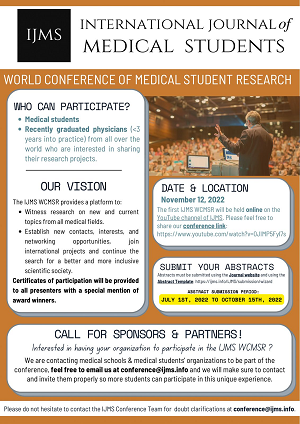 We look forward to seeing you on August 27, 2022. 8 AM EST. IJMS Youtube Channel.
Register Here!
Add to your Calendar
We are looking forward to your participation and remember to share this fantastic news on social media Linkedin, Facebook, Instagram, Twitter