Announcing the IJMS MedEd Research Webinars - See you in August 14th, 7 PM EST!
2022-08-04
IJMS MedEd Research Webinars #IJMSMEdEdResearch
We are glad to announce the commencement of the IJMS Medical Education Research Webinars which are scheduled to be held every month starting this August 14th, 2022, 7 PM EST. Through the journal, we strive to promote the environment of learning and scientific development. The MedEd Research Webinars serve to develop the culture of virtual mentorship for medical students unable to attend such programs in their home countries.
The IJMS has always been dedicated to promoting the training of a new generation of editors and peer-reviewers and now we feel honored to extend this culture to our community through this initiative. 
Mission & Vision
These webinars themes have been tailored to fit the needs of an early-career researcher and so will help us achieve the aim to be the leading diffusion platform for early career scientists' medical research. Our virtual mentorship program is in line with the goals of the IJMS as well as the needs of our readers/authors. We aim to make a significant difference in our readership's understanding of basic techniques, core approaches, and practical as well as theoretical concepts related to medical research. This is important to impart an accurate understanding of evidence-based practice early in the careers of medical students which is beneficial regardless of their clinical or academic interests. 
All our webinars will be transmitted on the IJMS Youtube channel and will be freely available on-demand for all audiences.
Introduction to Research and Publication
Dr. Abdelrahman I. Abushouk, MD, Research Fellow, Cleveland Clinic
[+10,000 citations in Google Scholar, h-index: 24 WoS]
August 14, 2022. 7 PM EST. IJMS Youtube Channel.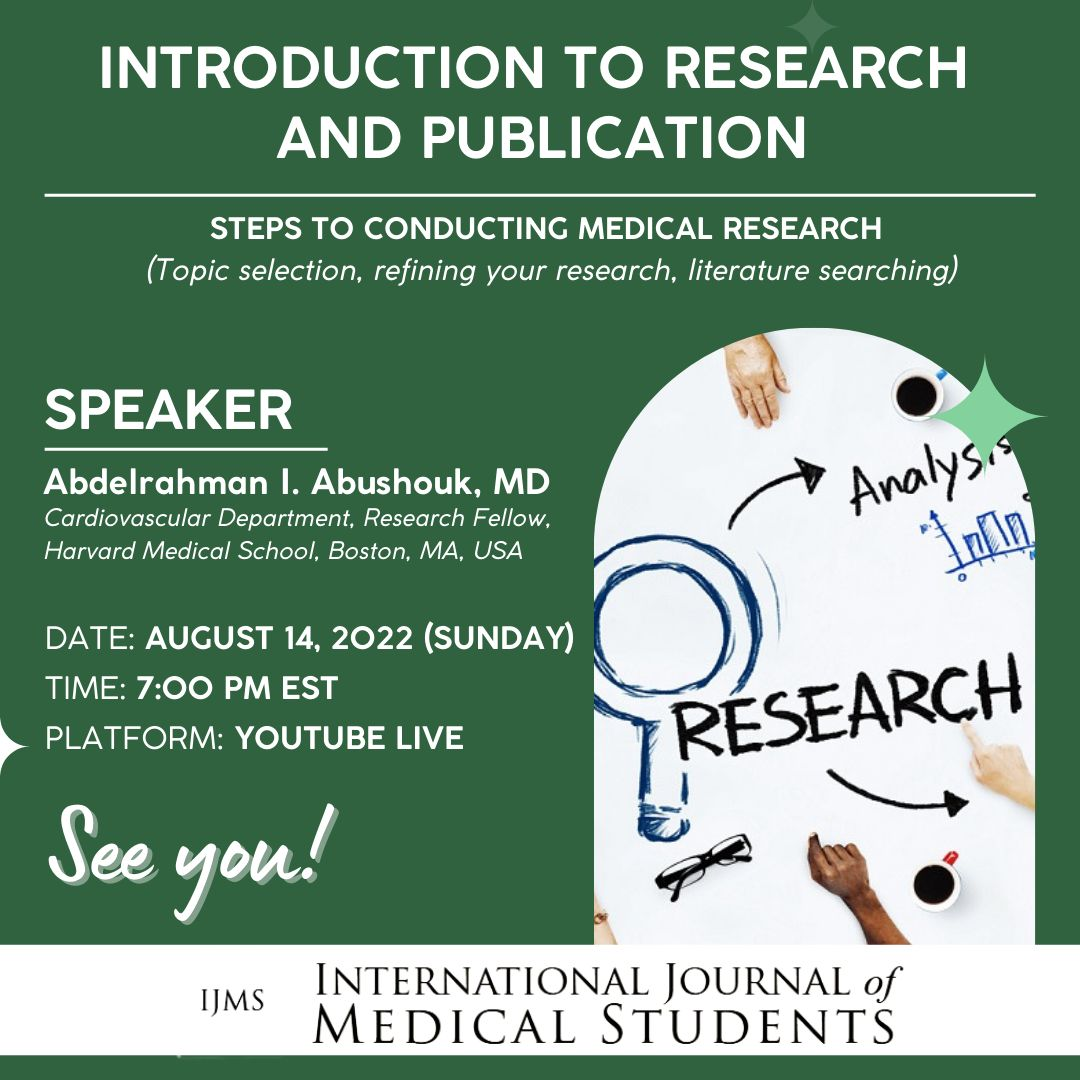 Register Here!
Add to your Calendar
We are looking forward to your participation and remember to share this wonderful news on social media Facebook, Instagram, Twitter